Do you want to learn how to create SEO friendly content in 2022?
In this post, We'll go over the basics and cover 7 tips to improve your SEO copywriting skills so that you can write content that ranks.
Let's get started.
What is SEO Copywriting?
SEO copywriting is the process of writing content that ranks well on Google searches. It's about answering user questions and providing useful information.
To begin, let's look at SEO from the perspective of copywriting.
What is SEO?
Search engine optimization is the process of improving your website's visibility in search engines. In other words, SEO helps you get more visitors to your site by making sure your site appears high up in search results.
SEO includes many subcategories, such as local business listings, technical fixes, and, of course, content.
Copywriters generally create multiple types of deliverables based on business needs, including but not limited to:
Blog posts
Ebooks
Ad copy
Landing page content
And more
Is SEO Important for Copywriting?
SEO copywriting is the process of creating web content for users using a combination of keyword research, competition research and SEO content strategy.
In simple words, Copywriters write content that helps search engines understand what your website page is about with the help of content.
7 Steps to Get Success in SEO Content Rankings
Content marketing experts agree that there's more to a successful piece of content than meets your eyes. In fact, you may be surprised by what you learn about the topic once you dig deeper into the topic.
In this guide, I will cover everything from selecting the right keywords to creating SEO friendly content below.
1. Make a list of Right Keywords for your topic
The first thing a writer needs to do is identify the right set of keywords.
Keywords are words or phrases that describe your topic. These words should be included in your content as often as possible.
Keywords should be chosen carefully. Search engines want to provide relevant results to users. To do this, they use algorithms to determine what words are most likely to indicate relevance. These algorithms take into account the context of your content as well as how often you use certain keywords.
The Semrush Keywords Magic Tool can help you discover new keywords within your industry in four easy steps:
Enter a primary search term or "seed" phrase.
Filters can be set to organize results based on search volume, difficulty, or other metrics.
To see if they match up with your goals, view your chosen Keyword's intent
For Example: Report screenshot for keyword faux fur blanket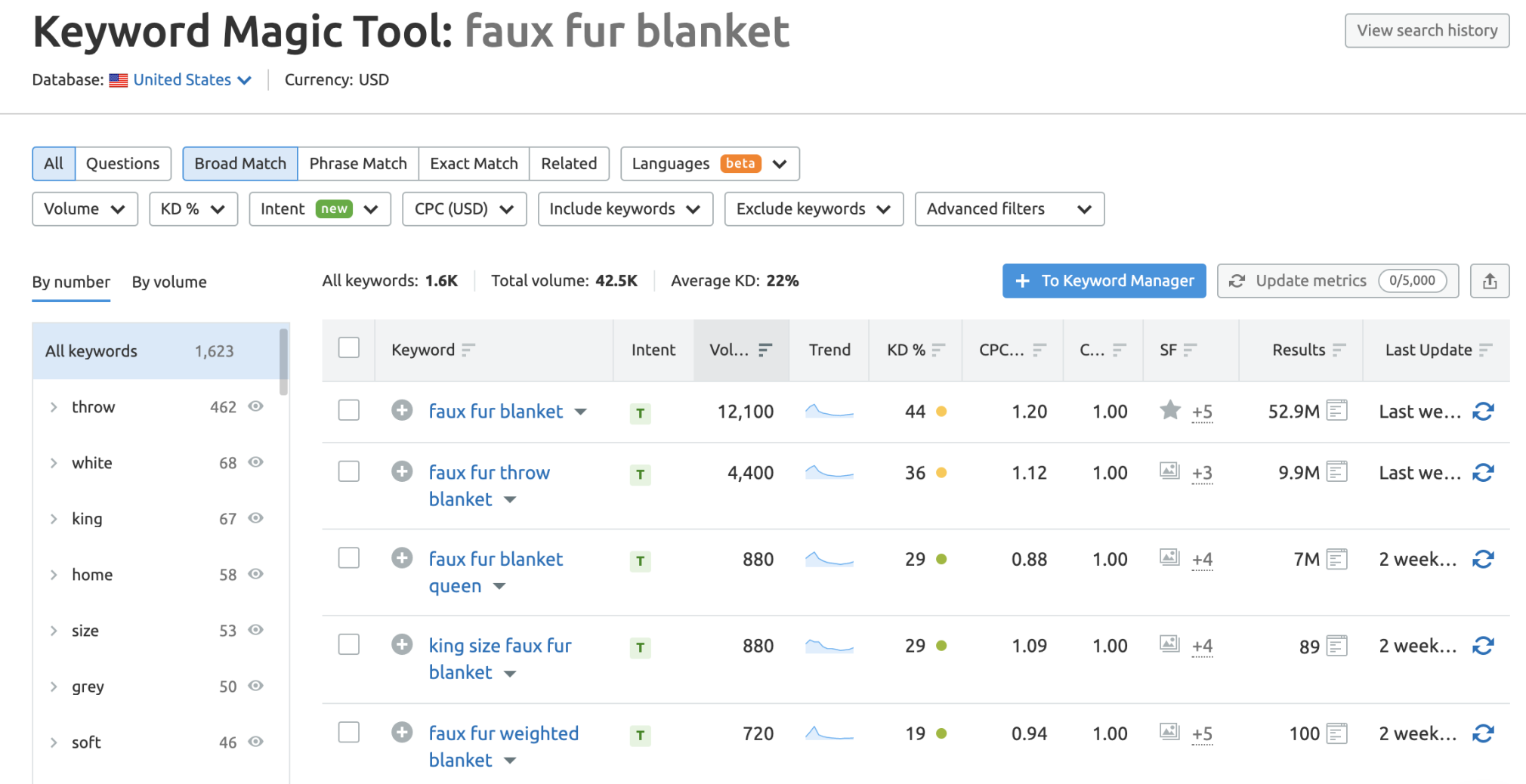 2. Find User Queries
The goal of a search engine is to make it easy to find information. It is for this reason that Google continues to develop SERP features; users no longer even have to click a page to find results.
Finding the right set of queries is a great way to build your content for SEO. It is also a good way to target the PAA People Also Ask box by Google.
There are several SEO tools that can help you find questions related to your topic and keywords:
There are a number of free SEO tools that can help you find the questions you are looking for related to your topic. Some of them are:
You can also utilise Topic Research Tool offered by Semrush, which provides headlines, related questions, and more data based on the keyword.
For Example: Report screenshot of content ideas for keyword "buy books"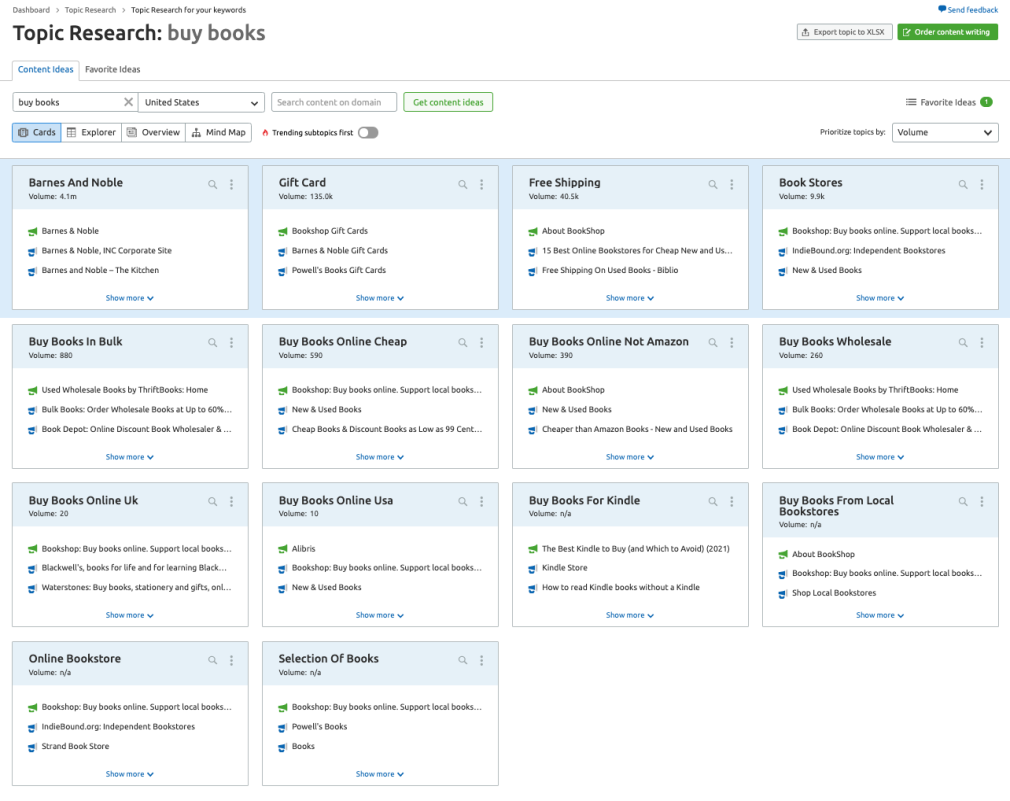 Once you have the list of the most popular keywords and topics, you can create content that delivers more information and value to the user.
3. Learn about Competition for the Targeted Topic
To ensure that we are optimizing our content to include our target keywords, check competitors' articles on the same topic.
You can use Incognito mode to see how your competitors are performing and What type of content is currently ranked by search engines.
It is very important to audit the top pages manually. This will help you make a better content than your competitors.
You can use AI content writing tools to prepare a content outline or start crafting your content with the help of AI Writing Assistant.
Here is the list of our favourite AI copywriters:
4. Create Simple-Structured Content
People use search engines to find answers to their questions. They want an answer quickly, so they don't have to browse through lengthy paragraphs.
Your content needs to be easy to read and understand. You should use short paragraphs and bullet points whenever possible.
The first thing you need to do is know your audience. It's important to keep your content simple and readable, even if experts in specific industries are looking for something more in-depth.
Let's see how we can make our copy more readable with some SEO copywriting tips.
1. Simple Structure
Simple structured content can be easily accessed by users and search engines. Each important topic should be used in relevant headings.
According to Semrush research, 36% of blog posts with H2 and H3 tags have better search performance. So make sure your content is easy-to-read and structured properly.
2. Relatable Headlines
Headlines should be informative and help readers understand what they will learn by continuing to read.
Think about user's problem, provide solutions in your article headlines, and elaborate your answer in the following paragraphs.
3. Short & Informative Paragraphs
Create short and informative paragraphs that are solves the user intent.
Short paragraphs make the reader's job easier. Make sure your content is easier to understand.
4. Simple Language
Do not use difficult words in your content piece. Try to create content in simple language which is easy to consume and understand.
5. Create H1, H2, Meta Title, & Meta Description 
Meta tags are the first things users see when they look your website page on search engines.
While Google does continue to improve its search algorithm, there are still many ways to optimize your website for SEO.
Some of the most common methods include using keywords in titles, meta tags, h1, h2 and content.
Meta titles and descriptions help searchers understand what your page is about. Make sure you use them correctly.
3 Meta Titles Tips to Follow in 2022
Create unique and keyword-rich meta titles
Keep it 55-60 characters long. Long meta titles impacts user experience on search engines.
Create releavant meta titles keeping search intent in mind
4 Meta Description Tips in 2022
Creat a summarised meta description for each page keeping the target keyword in mind
Mention relevant calls-to-action
You can also add relevant emoji to make it more attractive.
Keep it 140-150 characters long.
You can get help from websites like Fiverr.
6. Include Calls-to-Action in Your Content
CTAs is a great thing to improve your website user experience.
User lands on your page because they have a reason. If they were looking for information, provide them the relevant information and ask them to take action. You may want them to move to a course page, service page or a product page.
In order to increase conversions, you need to make sure your call to action is clear and compelling. You also want to ensure that your CTA is placed in the right location within your page content.
This may also improve your page views and reduce bounce rates. These are both very important factors when it comes to SEO.
7. Internal & External Link Building
Link building is one of the most important ranking factors when it comes to rank your content higher.
This is why a good internal and external linking structure is important within the content for SEO-friendly articles.
Linking to internal content helps users navigate more helpful resources in the next steps. Linking to related pages improves the overall linking structure of your site which helps in overall site SEO.
Links to external content help build trust around your copy, and they also provide a potential source of backlinks. Who knows? You might even get some links.
How to Write Content for SEO in 2022
"SEO content writing" doesn't mean writing content and adding a few words. In simple words, It means creating content that meets user's intent.
Writing for users and for search engines are essentially the same, content that meets users needs is favored by search engines.
So, how do you write SEO friendly content? Being a content writer is a good starting point if you want to learn how to write for search engines.
However, You should always think about user experience and SEO best practices when writing SEO friendly content. For instance, it's better to use short and keyword-rich paragraphs and bullet points.
7 Practical Tips to Write Content That Ranks in 2022
Here are some practical tips you need to write content that ranks for your business at Digital Media Story.
Create content outlines based on what works for your competitors.
Help your readers with your content. Help them to overcome their problems with the help of your content.
Create eye-catching headlines which convert into clicks for your content piece.
Include short paragraphs based on topical relevance. Offer actionable advice within content.
Include helpful images, infographics, videos or podcasts.
Create and optimize meta tags, heading tags and anchor tags.
Do internal and external linking to relevant content pieces on your topic.
Top 5 SEO Copywriting Tools Powered by AI
Do you want to write your own content? Here are some tools I recommend taking a look at to help with SEO friendly content generation with the help of AI.
Top SEO Tools for SEO Content Writing
Semrush Keyword Magic Tool: Narrows down your keyword research by finding the best keywords to target with your copy
Serpstat Keyword Tool: Serpstat has the largest regional databases of over 6 billion keywords and suggestions for search engines.
Frequently Asked Question-Related to SEO Copywriting
What is SEO Content Writing?
SEO copywriting means a writer writes content for websites that helps them rank higher in search engines such as Google. When writing copy, they consider keyword search volume, keyword density and content structure, tone, style, and readability to help a website rise in search results.
Is SEO part of copywriting?
No SEO is not a part of copywriting. When you want your content to be featured on search engines, SEO copywriting comes into the picture. Producing content that's designed to appeal to human users and search engines is what's known as "SEO copywriting".
How do I become a SEO copywriter?
You can follow these five tips to become a successful SEO copywriter in 2022. 
Do keyword research before writing
Create valuable content
Stay on top of SEO trends
Be a constant researcher
Create content structure that ranks
Does a writer need to know SEO?
Content writers don't need to know in-depth technical knowledge of search engine optimization, but they do need to know best practices.
Final Thoughts on How to Write SEO Friendly Content
It will take some time and effort to write SEO friendly content for your business, but it will pay off in the end.
Follow these SEO content writing tips to write content that ranks in 2022 at Digital Media Story.
Ensuring that good content leads to more traffic, social shares, business leads, and quality backlinks will be helped by these tips.
You can share and backlink to this resource if you find this guide helpful.
Do you know of other ways to increase the popularity of your content on search engines? Let me know in the comment section below.
Happy writing!