Are you looking for a better way to write content more efficiently?
We're in the future of marketing, and we know that means writing content. But what if you could stop spending so much time on it?
What if there was a tool or software that could help you create more engaging content faster than ever before?
The Internet is a useless place without content.
Content is all we can see and read through blog posts, news articles, and social media posts every single day.
But not everyone has the time or resources to produce compelling content for their websites, which is a problem in the internet world.
Entrepreneurs don't have time to spend on content creation because they are busy with their new ventures. The marketers don't have enough money to hire staff for content writing.
So the question arises. How can you keep up with the demand for high-quality content?
Well, Artificial intelligence could be used to answer the question.
AI copywriting tools are AI-based tools that write content based on human language inputs.
Many AI writers use the GPT-3 API by Open AI, which is the world's largest natural language processing model, trained on almost 10% of the internet, and further trained in specific contexts.
Here are some of the best free and paid copywriting software that you can use to start writing and posting high-quality content today.
27 Best AI Writing Software & Copywriting Tools to Generate Human-Like Content in 2023
List of the best AI writing tools. You can automate your writing with the help of artificial intelligence writers.
Jasper.ai (formerly Jarvis.ai or conversion.ai) would be a good choice to start this list. The AI-based copywriting assistant can create content for you in any format.
With Jasper ai copywriting software, you can create blog posts, video scripts, sales emails, Facebook ads, Google ads, marketing copy, and more (in 25+ languages).
The best feature of Jasper.ai is the Boss Mode. You just open the long-form editor, write what needs to be written and sit back as it creates high-quality content in seconds.
Brands That Are Using Jasper.ai
Airbnb, Google, Autodesk, Logitech, Promo and 1000s of well-known brands use Jasper for their content!
Jasper has teamed up with Surfer SEO, so it can help you rank in Google and create content with high-value keywords.
Pros
50+ AI copywriting tools
AIDA & PAS templates included
Surfer, Grammarly & Copyscape Integrations
Can create long-form articles.
Can create AI images.
29 supported languages
Cons
It's overwhelming.
Content credits are limited.
Jasper Pricing
In order to create long-form content, you need to grab the Boss Mode, which costs $49/month (billed annually). The starter plan is $24/month for short-form content.
We're giving away 10,000 words to try Jasper for free. You can use the credit to create blog posts, ad copies, sales emails and more!
Get Jasper AI Free Trial With 10,000 Words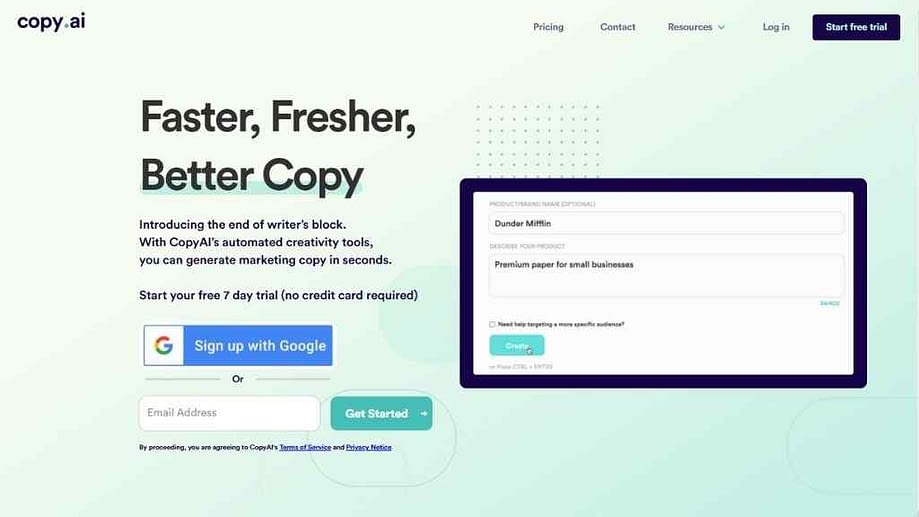 The Copy.ai AI assistant tool enables users to create marketing copies in seconds. The AI writer can be used to create blog content, e-commerce copy, sales copy, website copy, digital ad copy, social media content, etc.
Pros
90+ AI Copywriting tools
This helps avoid writer's block.
Support multiple languages
Unlimited credits available
Cons
Could offer additional features
Human intervention is needed.
First, you need to choose the copy type, and then describe it by writing one or two sentences. You will then be presented with 10 results at once.
No credit card is required for having a 7-day free trial of Cop AI, solo plans start from $35 per month with unlimited content runs.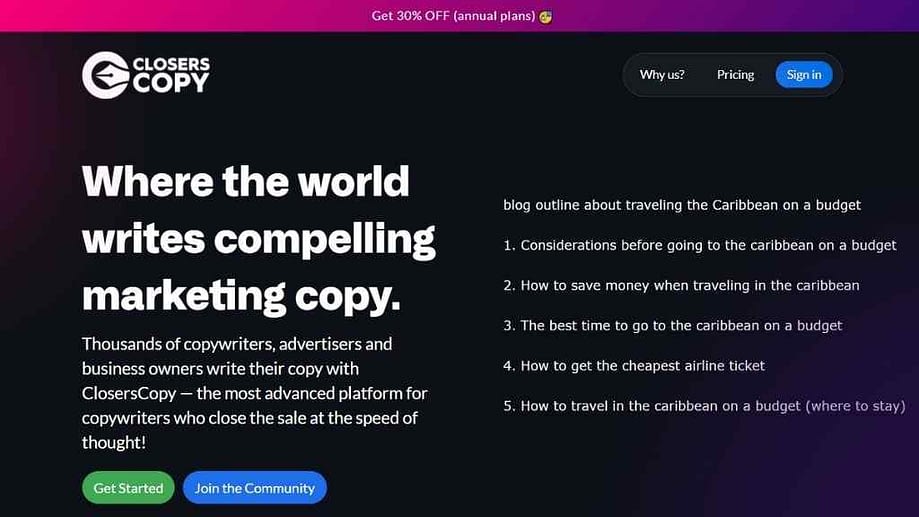 Closercopy is a powerful AI copywriting tool backed by three main AI engines: Sales AI, Blog AI and Story AI.
You can use this tool to write long-form content, such as sales pages, blogs, and articles, without any limitations.
The AI copywriting software includes wizards and frameworks, analytics, and collaboration, and supports over 124 languages.
One of Closerscopy's unique features is its AI technology, which is trained to write marketing copy, instead of using the GPT-3 model as most other AI copywriting programs do.
Pros
The most advanced AI writing software
700+ content frameworks to write any type of copy.
Supports 124+ languages
Includes SEO optimization
Cons
It is considerably more expensive than other software.
Dynamic pricing without a free trial.
If you are in business, sales, marketing, or advertising, it is the perfect AI copywriting tool for you. This is one of the best Jasper.ai alternatives you can explore.
Closerscopy Pricing
You can buy a Closerscopy subscription on a monthly or yearly basis. They also offer one-time LTDs on their Solo, Hero, and Squad plans.
There is a limited-time offer for this software which offers a lifetime deal for a one-time payment of $297. Grab it before the offer expires. Get 25% off Closerscopy LTD during this New Year offer. Use the TOTHEMOON discount code.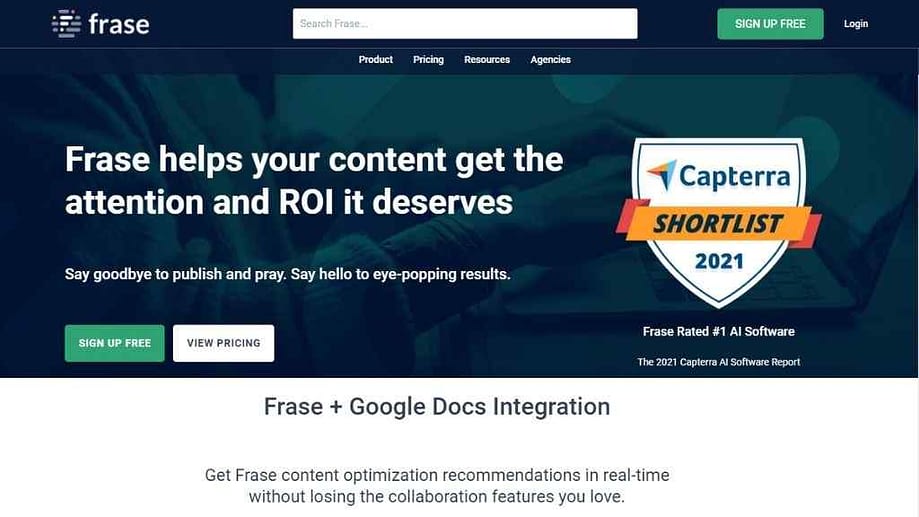 Frase is a must-have writing assistant if you are a content writer, a content marketer, or an agency that works with content.
An article writer can help you get more organic search traffic, improve your content with targeted keywords, and create an end-to-end content creation process. Now, there is also an integration of Google Docs.
Frase has features such as an outline builder, content briefs, content optimization, and Frase answers.
Pros
Content writing + SEO optimization included.
Keyword search volume data while writing posts.
It is possible to access the domain authority data of top search results.
Generate SEO-friendly content with a click of a button.
Cons
Limited content credits.
No free trial.
Frase Pricing
Frase is worth the money even though it is more expensive than other tools. The basic plan costs $44.99 per month and the solo plan starts at $14.99 per month.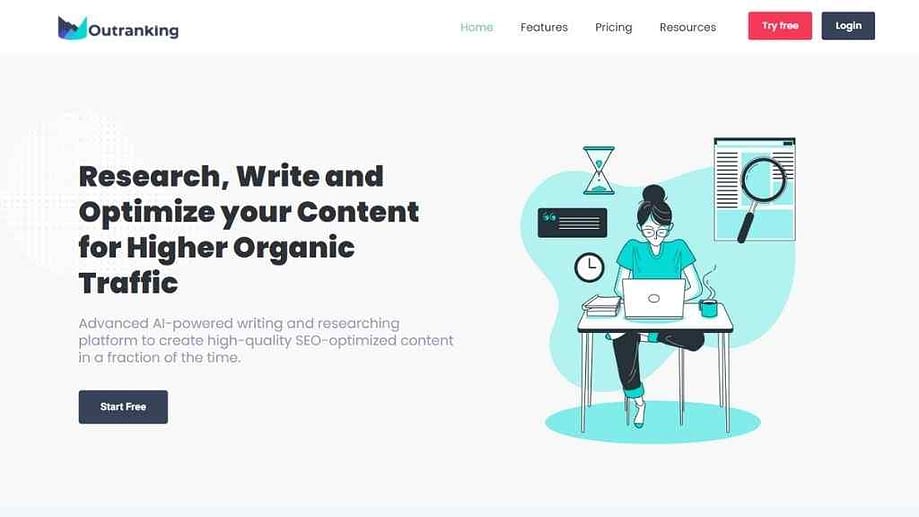 Outranking is the platform for content writers, This AI writer helps with outlines and SERP analysis, as well as Artificial intelligence writing and rewrites.
It is an artificial intelligence-powered writing assistant that can do research, build outlines, write content, and be a subject-matter expert in minutes. It can help you write more quickly.
Pros
It tries to generate an outline based on keywords and NLP terms.
Source citing and deep research capabilities
On-page optimization for AI-generated content
Get access to related keywords, semantic terms, and secondary terms suggestions.
Topic clustering for SEO content strategy
Cons
No free trial
It is considerably more expensive than other software.
Outranking Pricing
Outranking AI provides three pricing plans: Solo ($79/mo), Pro ($149/mo) and Company ($219/mo).
If you want unlimited writing, you can go with the Pro plan for $149/month. Pay for the annual subscription and get 2 months free.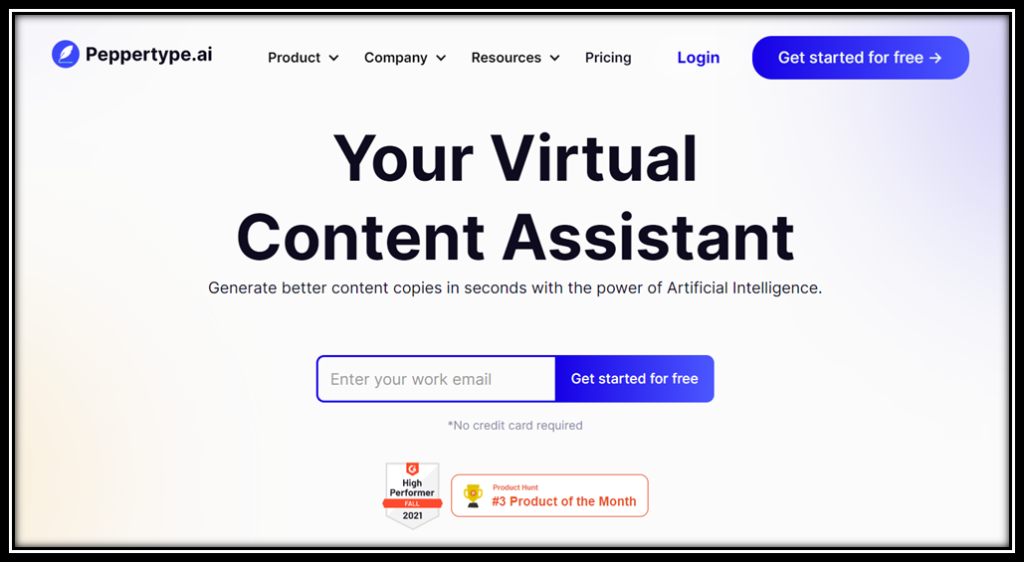 Peppertype.ai is an AI-powered instant content generator software that helps you create quality content faster.
It offers 40+ copywriting templates for a variety of content types. It includes blog posts, product descriptions, sales emails, quora answers and more. Also, read the Peppertype.ai Review post.
Pricing is $25 per month (billed manually) with a 50,000 word limit per month, you can also try their free trial plan and claim 10,000 words using the link below.
Scalenut is an artificial intelligence content platform that can help you discover and create SEO-friendly content for your customers.
Features of Scalenut AI Writer:
NLP-based content research
Competition analysis and social questions
Long-form AI writer/editor
Content optimizer to rank your articles
Short-form AI copywriting
Managed marketplace for top human talent
There are two main frameworks that help you create short and long-form content. SEO Assistant is powered with long-form AI and SEO intelligence to create amazing search-friendly articles and blog posts.
AI Copywriter template helps you create short-form content with the help of AI.
It offers one of the most affordable pricing plans. Pricing starts at just $12/month and the pro plan costs $62/month.
If you want to write great content at scale, you can explore the Scalenut content platform. Start with their free plan where you get 2 SEO documents and 4000 short and long-form content.
Simplified is a complete content solution that can generate high-quality marketing content with the help of artificial intelligence.
The software comes with various content tools for content designing, editing, publishing and more from one app.
You can use 30+ copywriting types to generate content for various channels with the help of a Simplified AI copywriter.
You can create content for videos, social media ads, quotes, e-commerce products, blog posts, articles, and more with Simplified's content writing tools.
You can try Simplified AI writer for free using their free forever plan where they offer 1000 words of credit per month.
Pricing starts at $15 per month for small teams and $30 per month for businesses. You can get a flat 20% discount on pricing when billed yearly.
They also offer customized plans as per request.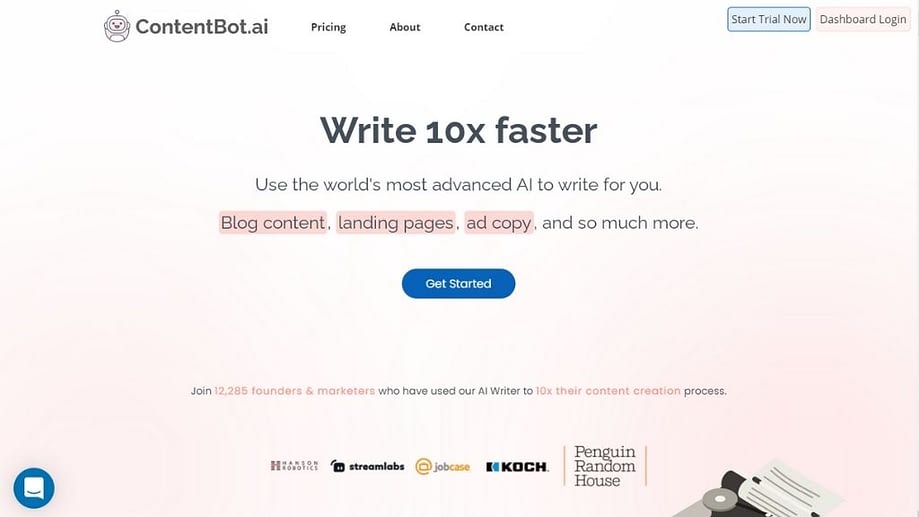 ContentBot.ai is an advanced AI writer for marketers and other people from the digital world.
Their main model is GPT3 by OpenAI, which is similar to many other writing assistants. They support all the languages that are supported by the search engine.
You will get 10 short-form credits and 0.5 long-form credits per month with the free plan. $29/month is the starting price for the paid plan. You are able to use its Chrome extension with this ai content writer app.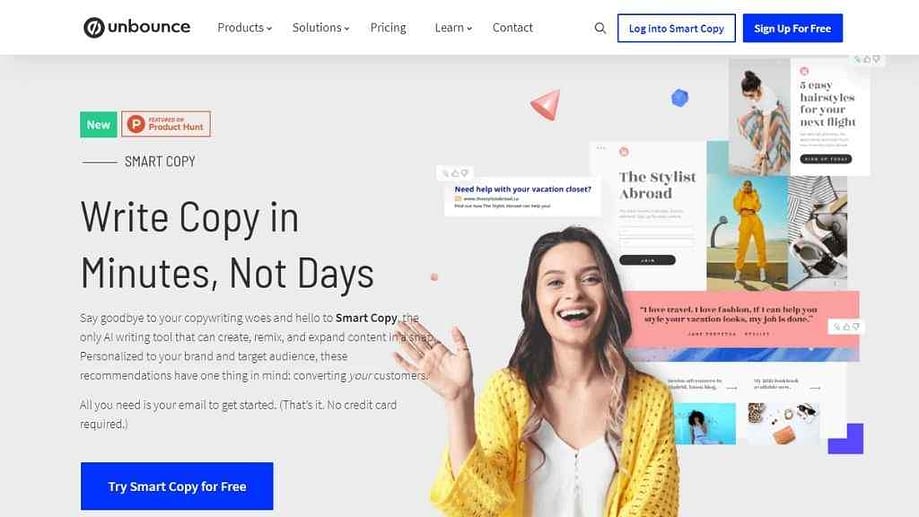 Another AI copywriting tool that you can use is Smart Copy by Unbounce (Earlier known as Snazzy.ai which is rebranded last month).
It is a free ai copywriting assistant with a limit of up to 5 content generations per day. This ai writer can be used to generate the following types of content:
Blog Posts
Tagline
Social Media Ads
Landing Page Copy
Google Ads
Investor Emails
Product Descriptions
Sales Email
Blog Ideas
New Product Idea
Facebook Primary Text
TikTok Video Ideas
Much more…
You can start using Smart Copy with the free trial and If you wish to upgrade, the paid plan is also affordable, it's just $25/month (billed annually).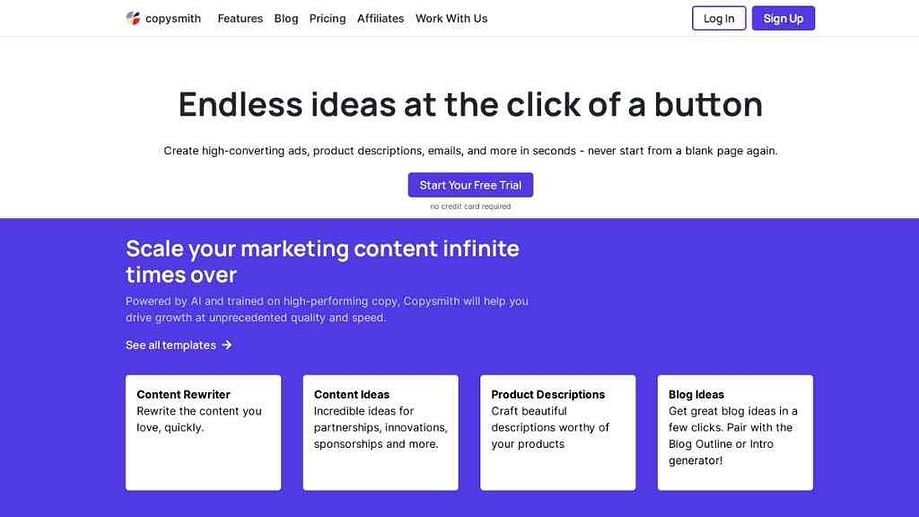 Copysmith generates quality content that converts at warp speed can be generated and launched by marketing agencies and teams.
Whether you are a content writer or you run a digital marketing agency or e-commerce, you can try Copysmith to create high-converting ads, blog ideas, emails, articles for your blog, and much more.
Pricing of this ai copywriting tool starts with the starter plan from $19/month, you can have a 7-day free trial without any credit card.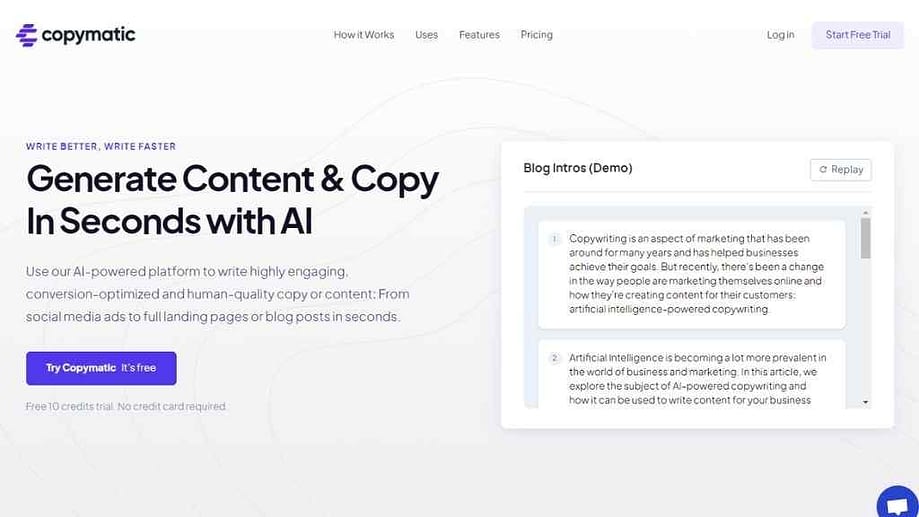 Copymatic is an ai content assistant that has the same type of features as the above-mentioned AI copywriting software.
This AI content writing tool can be used to create highly engaging, conversion-optimized, and human-quality copy for websites, social media, and e-commerce.
Copymatic free trial is available, its Pro plan with unlimited credits costs $49 per month.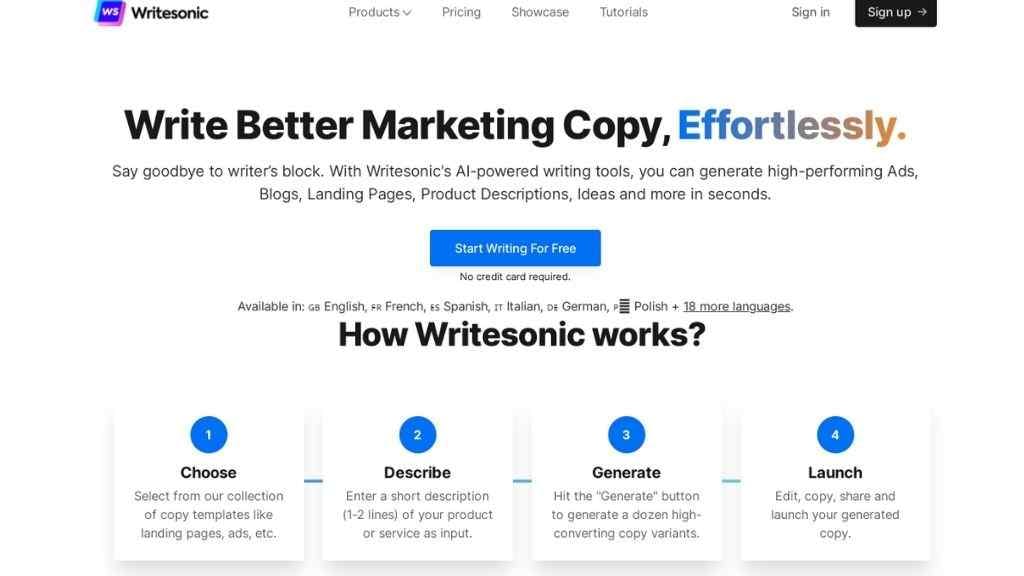 Writesonic uses AI to write marketing copy, generate articles, and write AI content. You can try it out with a free trial and 10 free credits.
The features are Landing Pages, Google Ads, Facebook Ads, Product Descriptions, Article Summaries, Professional Emails, Content Expander, Content Rephraser, Grammar Fixer, Copywriting Formulas, SEO Metatags, Feature to Benefit, LinkedIn Ads, LinkedIn Posts, Personal Bios, Company Bios, and Short Press Releases.
The advanced features include artificial intelligence, article writing, blog ideas, blog intros, blog outlines, and priority support. It is available in over 18 different languages. To get unlimited credits you have to get the professional plan which costs $45/month.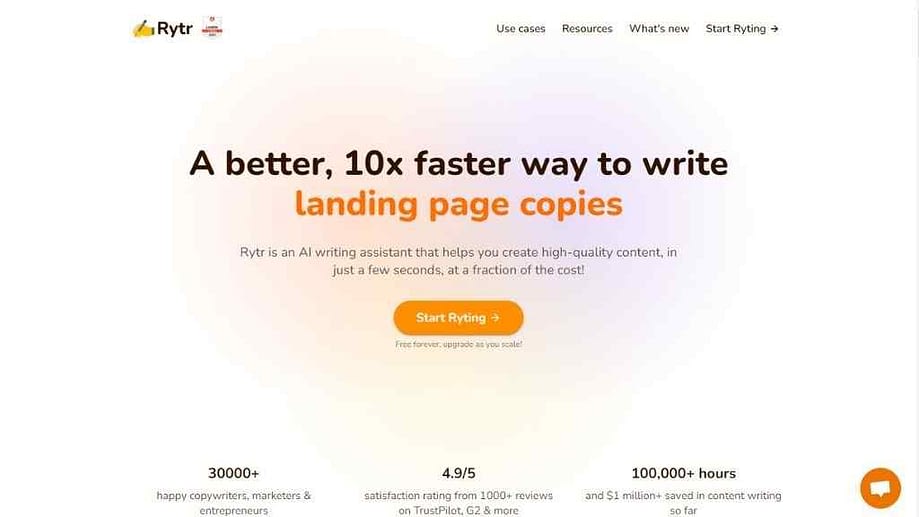 Rytr is a free artificial intelligence writing assistant with a 10k characters limit per month.
You can use it to write emails, social media ads, blog posts, taglines, headlines, product descriptions, and testimonials.
Rytr.me is free to use and you get 10,000 characters per month. To get unlimited usage, you need to upgrade to the premium plan that starts at $9/month (billed annually).
Rytr's limited-time lifetime deal was available on Appsumo where you can get this software at $39 for a lifetime. It was one of the best Appsumo deals in 2021.
Rytr Pricing
Rytr has two main pricing plans, along with a free AI content generation plan, and they're as follows:
Free plan: 10K characters per month
Saver plan: $9/month or $90/year
Unlimited Plan: $29/month or $290/year
Their free plan gives you 10,000 characters per month for free, meaning every month you can generate up to 4,000 words without spending a single penny. Great, isn't it?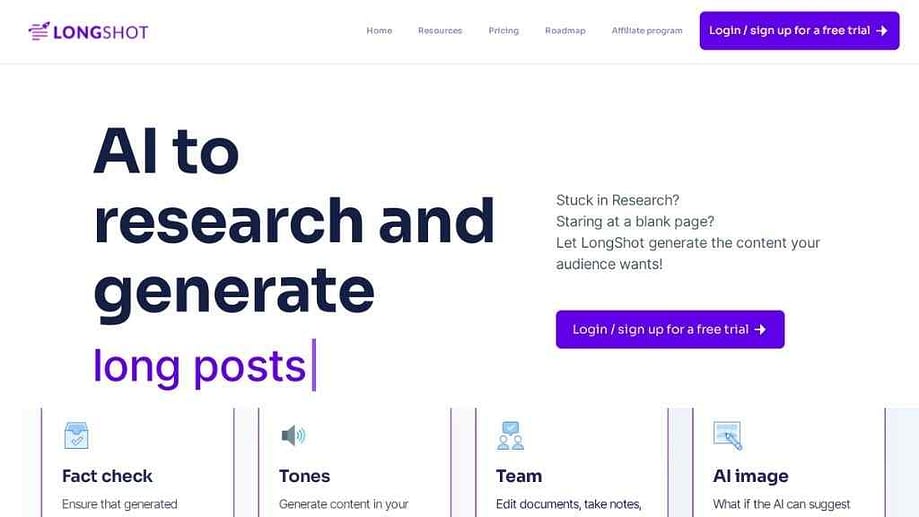 Longshot AI is your solution for generating long-form content. It uses AI to help you research your niche, generate attractive content ideas, create content briefs, and write SEO-friendly content.
Longshot AI will allow you to generate authentic, fact-checked content and use standalone tools like text extender and rephraser.
You get three days of free access to this AI copywriting tool. The paid plan starts at $19.90 per month.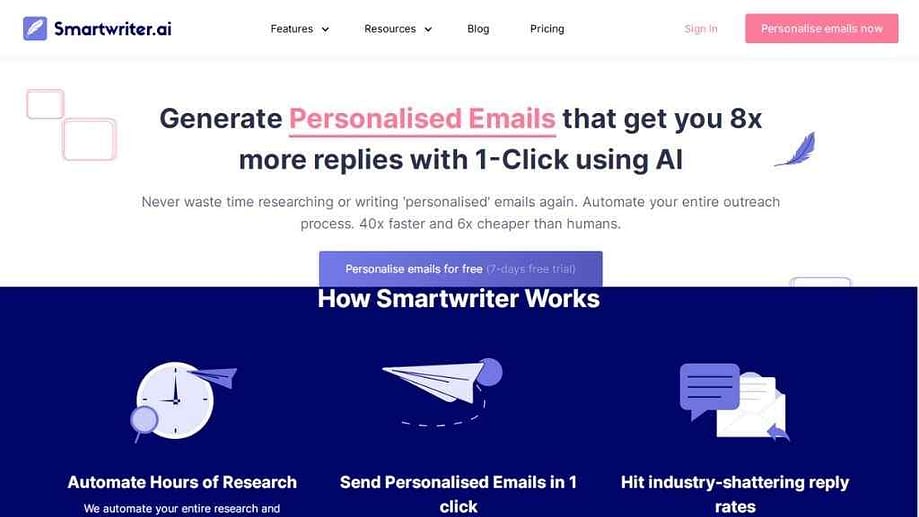 Smartwriter is a smart AI content generator software for content creation as well as email outreach.
This artificial intelligence software can save you thousands of hours by writing and sending personalized emails automatically based on your client's online data.
Smart Writer AI Features:
Personalized Cold Email Outreach
Automated SEO Backlink Outreach
Personalized LinkedIn Outreach
AI Social Media Content Generator
AI content generator
This is one of the best email writing tools that you can use for your email marketing campaigns.
The $59/month plan is the basic plan, and the $149/month plan is the most popular one. There isn't a free plan, but you can try the 7-day free trial without providing your credit card details.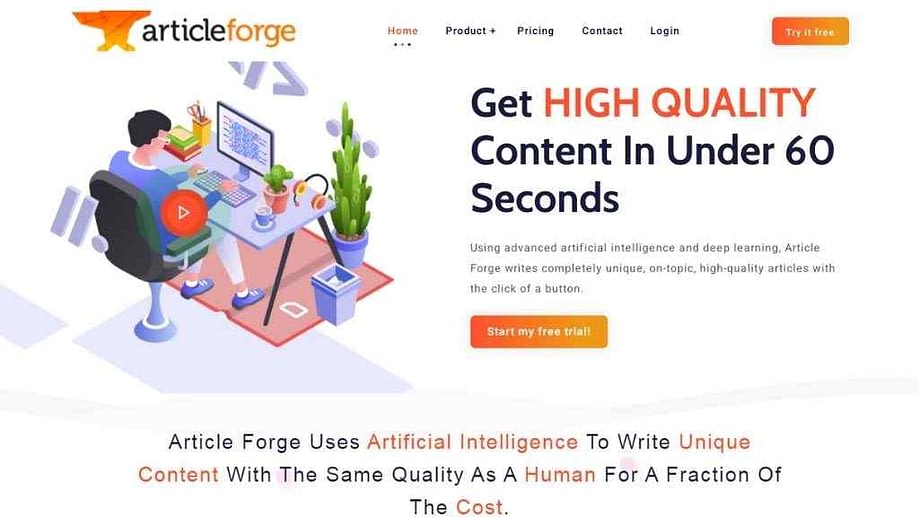 Article Forge AI article writer will create high-quality content for you in under a minute.
You can use this AI writer to create technology articles, local articles, business articles, health articles, finance articles, etc. And you can automatically post the article to your blog.
Pricing is $27 per month (billed manually), you can have a 5-day free trial using the link below.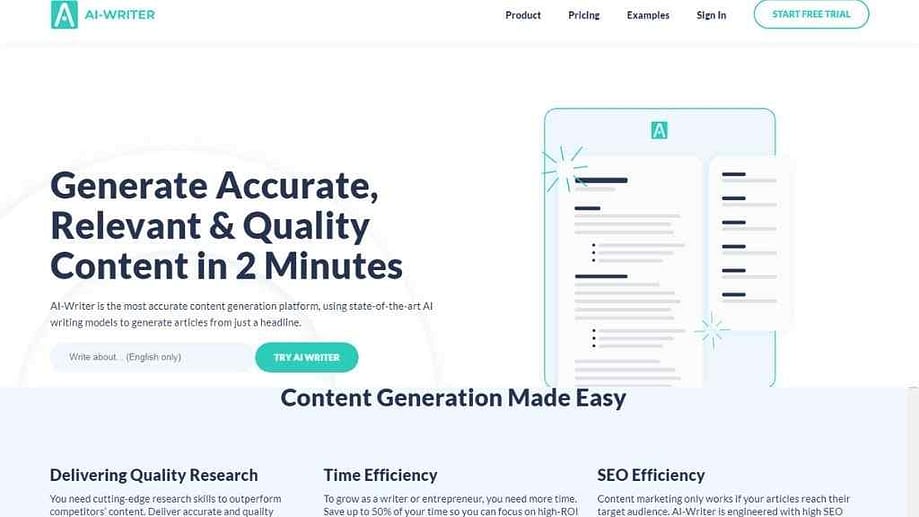 Ai-Writer is a text generator software that can create quality content in 2 minutes from just a headline.
The ai-generated text is unique and comes with many benefits, including being original, SEO-friendly, and authoritative.
It is one of the cheapest ai writing tools as the basic plan costs just $19/month and the standard one costs $49/month.
Bramework is an AI-based copywriting assistant that helps you write compelling long-form content for your business website and blogs.
It has the power to help you to generate blog content faster and have more traffic and convert visitors into leads.
It manages keyword research, recommends keywords, shows keyword trends, Image suggestions, AI content creation and more.
If you want to create SEO content that Google loves then you should check GrowthBarSEO's copywriting tool, powered by Open AI.
It allows you to generate SEO-optimized blog outlines with just a click with the right set of keywords, word count, relevant headlines, content readability and more.
It also allows you to do competition analysis to find out your competition data such as organic keywords, paid traffic, backlinks etc.
Pricing starts at $29 per month with a 7-day money-back guarantee. You can try the special free trial for 5 days using our link below.
ShortlyAI is another popular long-form copywriting tool, powered by artificial intelligence.
The tool has been acquired by the Jasper AI team, but it works as an independent entity and hence you can consider this for your AI copywriting needs.
At the click of a button, Shortly AI can continue writing for you, help you get your thoughts into engaging content, and more.
Pricing starts at $79 per month with unlimited content creation and access to all features. You can try their free plan to see how Shortly AI generates content.
WriteCream is a clever AI-powered content marketing tool that uses advanced artificial intelligence and machine learning to write content for your business.
It can generate copy for Google ads, social media ads, landing pages, emails, product descriptions, blog posts, and more.
In addition, you can use this copywriting tool to generate compelling, personalized introductions for outbound marketing campaigns.
The standard plan pricing starts at $49 per month and the extended plan pricing starts at $69 per month. WriteCream offers a free forever plan with 20 credits limit per month.
With Content Villain AI, you can make better content faster with the use of advanced artificial intelligence technology and an emphasis on customization.
With over 50+ unique content models, It is one of the leaders in the invention and understanding of the perfect model for your copywriting needs
Mastering all of the latest A.I. technologies out there for content generation puts them in a unique position. You get the best technology that suits your content needs.
The custom solution is truly unique and it works closely through the whole content creation process to guarantee your satisfaction with the AI content outputs.
Content Villain can easily integrate with low-code workflows and webhooks like Zapier, Pabbly, Integrately and more in just a few clicks.
The best thing about this software is focusing on custom content models, automation and other marketing tool integrations.
Their offering is truly unmatched. Test drive plan pricing starts at just $5.
Craftly is an artificial intelligence copywriting tool that can produce unlimited unique content for a variety of industries.
Choose from its wide range of tools, give some information and then start receiving variations, it's the same thing as Craftly. The academy has step-by-step guides, instructions, and tips.
To get unlimited access to all the features and tools you need, you have to grab the most popular crafter plan, which costs $79/month. You can get a 5-days free trial on all plans.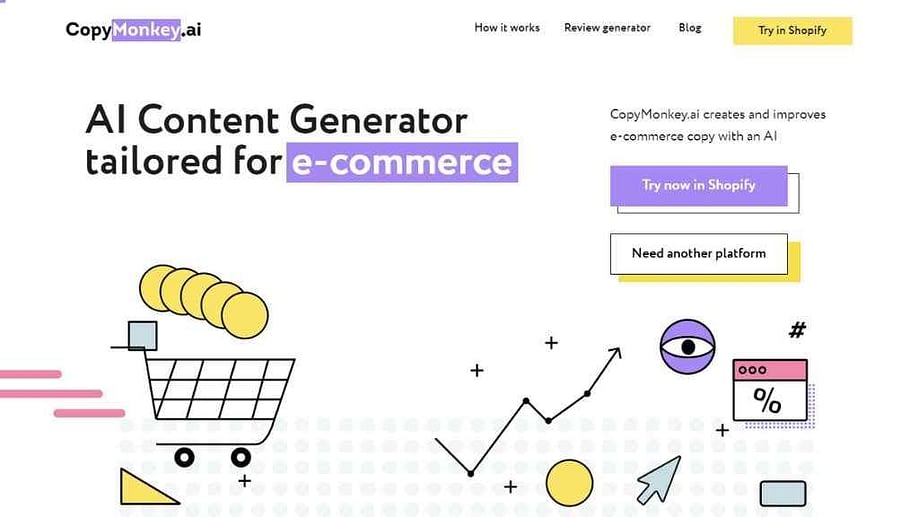 CopyMonkey.ai app can work directly with your e-commerce product catalogue. You have to choose product tags and write additional product details. CopyMonkey will generate several descriptions and publish them for you.
This is one of the best product description generator tools that you can use for your Shopify e-commerce website to generate engaging descriptions.
Two languages are currently supported – English & Russian. If you want to integrate using API or integrate with anything other than Shopify, just contact them and they'll help you out.
As they are a new company, their pricing may change soon, so I'm not putting it here. Use CopyMonkey Coupon Code DFLMBH35 to get a 35% discount.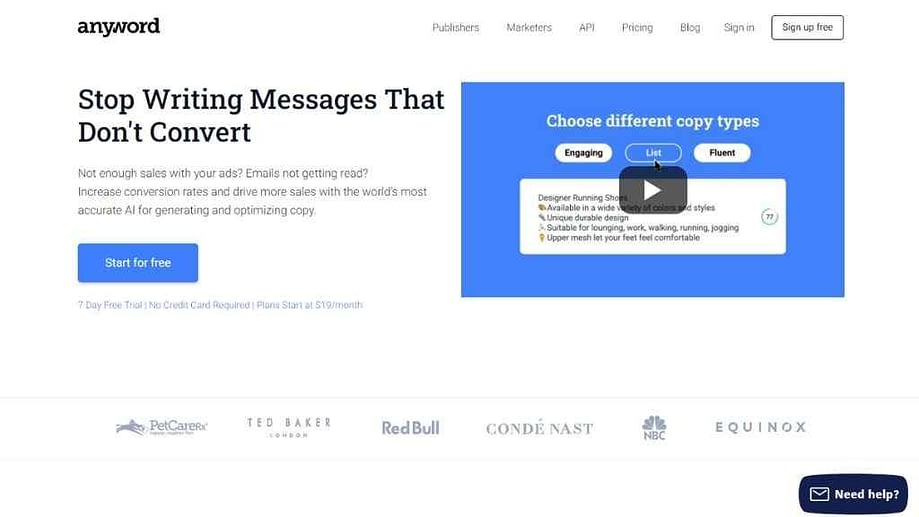 If you are not getting enough sales with your content, Social media ads or emails, try using the AI-optimized copywriting tool Anyword.
They pretend to be the first copywriting Artificial Intelligence software to offer a predictive performance score for content.
Use this ai writer to generate high-converting copy for blog posts, ads, sales emails, website landing pages, or long-form articles. Pricing starts from $19/month. Use Anyword Coupon Code Anyword20.
WordAI is an AI-powered text rewrite software that offers a variety of features to help content writers improve the quality of their content.
It has an extremely fast and intuitive user interface. You just need to enter your content, click the rewrite button, and in a matter of seconds, Word AI will rewrite the entire content for you.
It provides several different content modes for users to input text, including sentence mode, paragraph mode, and document mode.
It has a popular feature called the 'Turing Test' which helps marketers to decide how well they are using proper grammar and syntax.
The pricing starts at $27 per month. They also offer a free trial for three days.
Well, there are some other ai copywriters like GoCopy AI Writer, Nichesss AI Copywriter, Simplified, AI SEO & Zyro AI Content Generator which you can check out by simply following the links.
Benefits of Using AI Copywriters
If you need an assistant to help you come up with good content for landing pages, websites, or social media, you can use Artificial Writers.
Here is a synopsis of the benefits of AI Copywriters:
AI writing software can be used for a variety of purposes, including writing essays, articles, blog posts, and even creative works.
You can speed up your process with the help of Artificial Intelligence writers.
Repetitive content for your products and services can be created at scale.
It is easy and quick to create high-performing copy based on the data input.
Content can be created and translated into multiple languages to reach a wider audience using AI writers.
FAQs
What is AI Writing?
AI writing is a type of AI that is used to generate writing in order to fulfil a content need. There are many ways that AI writing can be used. One of the most common uses is to generate copy for websites, such as headlines, blog posts etc. It can also be used to generate content for social media, such as Facebook, Instagram or Twitter posts.
Which is the best AI writer?
Now, more than ever, AI writers are in demand. There are so many AI copywriters available out there, so how do you know which one is the best? You can refer to our list of best ai writers, along with the reasons why they are so good.
What are the benefits of AI content generator tools?
Ai writers can write about any topic, from tech to politics. They can write blog posts, articles, email content and landing page content for any website. They are a great choice for companies who need a wide variety of content and can provide quality content on a consistent basis.
Conclusion for Best AI Copywriting Tool in 2023
You may be confused about which AI copywriting assistant to use.
If you want to create high-quality SEO content, then go for Frase.io, if you don't, then Outrankings is the most affordable alternative you can explore.
Closerscopy is a must-use for marketers for writing better copies, Smartwriter is the best option for email content generation and outreach.
I Recommend Jasper AI: Jasper Formerly Jarvis is the best tool right now. It's well ahead of its competitors, and there are lots of great reviews and training videos that can help. Get 10,000 Free Credits using our link to learn more!