Want to know Jasper AI pricing for 2022? Not sure which Jasper pricing package you should choose?
You're on the right page.
There is a huge demand for copywriting tools like Jasper AI.
The reason is this. Everyone wants to create better content, but not everyone has the time or resources to do so.
What is Jasper (Formerly Jarvis AI)?
Jasper.ai is one of the most popular AI copywriting tools that use GPT-3 artificial intelligence technology to help you generate content faster for blog posts, social media posts, creative stories, video scripts, books, email newsletters, ad copy, landing pages & campaign funnels, sales copy, eCommerce product descriptions and much more.
The AI is trained by human copywriters and conversion experts with decades of experience.
Additionally, it provides a risk-free 30-day trial. They provide excellent customer support. Starter plans begin at $29 per month for 20,000 words generation, and Boss plans begin at $59 for 50,000 words.
Jasper Pricing & Plans in 2022
Jasper AI offers two affordable pricing plans depending on the word generation limit and content writing features of each plan:
Starter Plan – $29 per month for 20,000 words per month
Boss Mode Plan – $59 per month for 50,000 words per month
Check Jasper AI Pricing: https://jasper.ai/pricing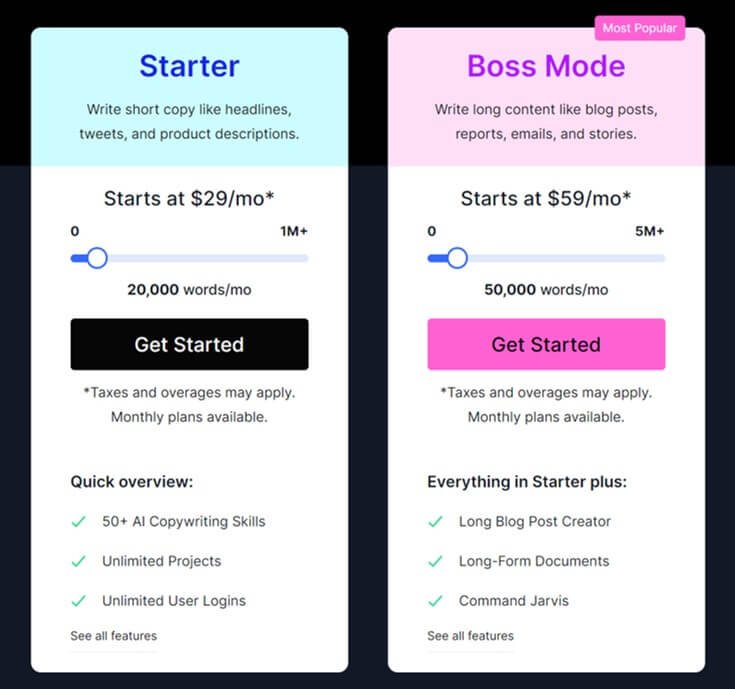 At Jasper HQ, The team is planning and strategizing ways they can continue improving Jasper and everything they do to bring the Jasper.ai community the best they have to offer.
Last month Jasper.ai team announced the price of Boss Mode has been cut IN HALF to make the full power of Jasper more accessible to everyone 🙌
Before Jasper AI Boss Mode pricing was $119/mo, NOW?
It's only $59/mo 🔥 Check Jasper Boss Mode: https://jasper.ai/bossmode
If you want to write long content like blog posts 5X FASTER, then you need Jasper on Boss Mode.
This new Jasper Boss Mode plan includes:
The Blog Post Creator
50+ Copywriting templates
SEO Mode (with SurferSEO)
NEW BONUS: Grammarly included
Plagiarism checker (with Copyscape)
50,000 words per month written by AI
Language Translation (25+ languages)
Jasper Commands (control the AI directly)
"Oh, and 1 more thing…" [Steve Jobs voice]
Adding team members is now FREE, instead of $50/mo.
How much does Jasper.ai cost, and What Does it Include in 2022?
| | | |
| --- | --- | --- |
| Jasper.ai Features | Jasper.ai Starter | Jasper AI Boss Mode |
| Price | $29/month | $59/month |
| User seats | Unlimited | Unlimited |
| Word generated | 20,000 per month | 50,000 per month |
| Best for writing | Short copywriting | Long-form content |
| No. of copywriting templates | 50+ | 50+ |
| Supported languages | 26 | 26 |
| Support | Included | Priority – 5X Faster Response Time |
| Long-form writing assistant | No | Yes |
| Document editor | No | Yes |
| No. of project folders | Unlimited | Unlimited |
| Jasper voice command | No | Yes |
| Grammarly integration | No | Yes |
| SEO mode | No | Yes |
| Plagiarism checker | No | Yes |
| Training boot camp | Included | Included |
The goal is to continue making Jasper AI the greatest possible product at a great price. They believe this new pricing is another step in that direction.
Now that you can get Boss Mode at 1/2 the price, you might want to consider trying it out.
We hope that lowering the starting price of Boss Mode down to just $59/mo allows you to experience the full power of artificial intelligence in your marketing.
2022 is going to be the year of content creation. Now you have the tools to succeed.
Try out Jasper on Boss Mode risk-free.
Here's the link for a free 5-day trial: https://jasper.ai/free-trial
100% No-Risk Money Back Guarantee by Jasper AI
"Over the next 5 days, make an informed decision if Jasper meets the hype. If you're not whistling with joy from the content Jasper wrote for you, then simply email hey@jasper.ai we'll instantly refund 100% of your money.No questions asked. I'm confident that when you sign up today, you'll get exactly what you need to write content at scale, fast." So what are you waiting for? Take jasper.ai free trial today!
The Pros And Cons Of Jasper AI Tool
There are pros and cons to every software. The pros and cons of Jasper.ai are listed below.
Jasper.ai Pros
5-days free trial available.
It generates 99% of fresh & original content which is engaging and plagiarism-free.
Jasper enables people to write anything quickly and save more time by breaking through writer's block problems.
Comes with 50+ copywriting templates.
Cut down 80% of your content writing time.
Supports 30+ different languages.
Boss Mode offers advanced features to write content 10X faster.
Get access to Jasper Academy for free to learn how you can use this tool to write great content.
Get an SEO course and website copywriting course from top experts worth $700 for free.
Get access to common use cases
Super active customer support over live chat and email.
Over 2,000+ reviews that rated Jasper 4.9/5 stars on various platforms.
Trusted by over 50,000 copywriters and marketing professionals around the globe.
5 days money-back guarantee with no questions asked policy.
Jasper.ai Cons
Can't rely on Jasper for factual data-points content.
Steep learning curve.
Conclusion Jasper AI New Pricing Plan
Jasper AI is a great tool for those who want to spend less time generating high-quality copy and content and reduce the risk of making mistakes.
It provides its clients with AI-powered content marketing through the creation of engaging ads, emails, web pages, and blogs.
The platform has multiple features that make it useful for all users, and it is reliable every time! So visit Jasper.ai and go for the best AI content writer!