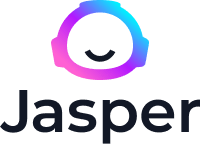 Jasper.ai Partners
Jasper AI affiliate program offers flat 30% recurring revenue to their partners as long as the referred customer pays for this amazing ai copywriting tool. You will get a 30% commission when someone you refer pays a monthly subscription.
Making passive income through affiliate marketing is a great way to increase your income, but finding an affiliate program that pays well and is legitimate can be difficult.
In this post, I am sharing one of the best affiliate programs that can help you make passive income in 2022.
And the affiliate program name is Jasper AI!
What is Jasper Formerly Jarvis.ai?
Jasper.ai is a software company that creates awesome marketing content with the help of an Artificial Intelligence copywriting tool.
Jasper AI has been around for nine months and is one of the best-paying affiliates out there. They are here to stay.
You can try Jasper for free using this link.
What is Jasper Partner Program?
A Jasper Partner Program or Jasper.ai Affiliate program membership is for individuals who are into affiliate marketing or run a blog or have social media following and want to promote Jasper.ai on an ongoing basis, and not just for referring a friend or two.
This opportunity might be perfect for you if you want to start earning passive income online through affiliate marketing.
You can get a 30% recurring commission for the leads that purchase Jasper AI software through your link.
Get started today as an affiliate and start making money.
Jasper AI Affiliate Platform
The affiliate technology used by Jasper.ai is FirstPromoter, one of the most powerful affiliate management platforms used worldwide by a large number of brands to track, manage and optimize their referred customers.
How much money can you make with Jasper.ai Affiliate Program?
You can make a decent amount of earnings with this partner program.
As per Jasper.ai's research based on 10,000 paying customers, the average revenue per user is $79 per month out of which you get a flat 30% recurring commission.
Here's what that could look like:
1 Jasper.ai referral = $24 per month
10 Jasper.ai referrals = $240 per month
100 Jasper.ai referrals = $2,400 per month
Please check this table to understand the commission and earning potential with Jasper AI software. This is a recurring commission you can earn on each Jasper sale.
| | | |
| --- | --- | --- |
| Jasper.ai Pricing Plans | Starter Plan | Boss Mode Plan |
| Price Per Month | $29 | $59 |
| 30% Commission Per Sale | $8.70 | $17.70 |
What's the cost of Jasper.ai?
The plans start at $29/mo and include 20,000 words. Pricing goes up with the number of words you generate using Jasper AI.
Jasper Prices & Credits are as follows:
20,000 words = $29/mo
50,000 words = $59/mo
100,000 words = $99/mo
300,000 words = $279/mo
We have created a separate post on Jasper AI pricing that you can check to learn more.
How To Apply for Jasper.ai Affiliate Program in 2022?
Joining the Jasper AI affiliate partner program is very easy and you can apply for the program in less than 2 minutes.
Visit https://www.jasper.ai/partners & click on the "Apply to be a Partner" button.
Now you will be redirected to the Jasper partner program application page on the Firstpromoters platform.
Fill in the required details like Email, First name, Last name, Website URL, Country, Password, Social media profile links and accept the terms and conditions. Now click on the "Signup" button.
Now keep an eye on your mailbox as you will be notified through an email.
As soon as your application is approved, you will have access to Jasper.ai's affiliate dashboard. This is where your affiliate links and marketing materials are ready to promote this amazing AI copywriter software.
Who can sign-up for Jasper AI Affiliate Program?
Jasper is a software that helps website owners, content creators, bloggers, writers, students, agencies and marketers.
If you are catering to them as your audience then you can join the Jasper.ai affiliate program to earn money by referring Jasper to your audience.
This Jasper affiliate program is most suitable for:
Creators
Bloggers
Digital Marketers
YouTubers
SEO Experts
Content writers
If you want to help people to solve their writer's block, then join this program and help them write better, faster and error-free content.
Get started today as a Jasper affiliate
Jarvis AI Affiliates Facebook Group
You can find the official Facebook community for Affiliate Partners of Jasper (formerly Jarvis). The goal of this Facebook group is to:
✅ Have a direct line of communication with Jasper.ai founders
✅ Get the latest news about promotions and news
✅ Collaborate on best ways for sharing Jasper
✅ Become an amazing Jasper affiliate marketer and earn more
What's the referral cookie life?
The referral cookie life is 30 days. The user has to sign up within the first 30 days from the first referred visit.
When will you get paid?
All commissions that are at least $25 are paid in the first week of the month, and for sign-ups that happened at least 30 days prior.
Example: An affiliate named "Sam" refers Jasper.ai to his customer "Ryan" who starts his subscription for $59/month on January 15th.
On January 15th (30 days after payment) Ryan's payment has not been disputed or refunded, so Sam's commission of $17.70 (30% of $59) moves from "Pending" to "Due".
On February 1st, Sam only has $17.70 in commissions which is less than the $25 needed to get paid.
However, throughout January Sam referred 5 other customers whose pending commissions are about to be due!
On March 1st, Sam now has 6 commissions of $17.70 which is $106.20, which is greater than $25, so he is paid out all his commissions via PayPal in the month of March.
Let me know if you still have any queries regarding this in the comment section below.
You can also check Jasper.ai alternatives to learn more about the competition.
Conclusion: Special tip from Digital Media Story
Try the product yourself before you sell it to others.
Using Jasper will help you understand the product and how it helps you to overcome writer's block. You can then explain the benefits of the product much more clearly, resulting in more sales through your affiliate link.
You can apply for Jarvis.ai free trial and use it for 5-day for free!